Land Development Agency publishes update on Central Mental Hospital (CMH) site in Dundrum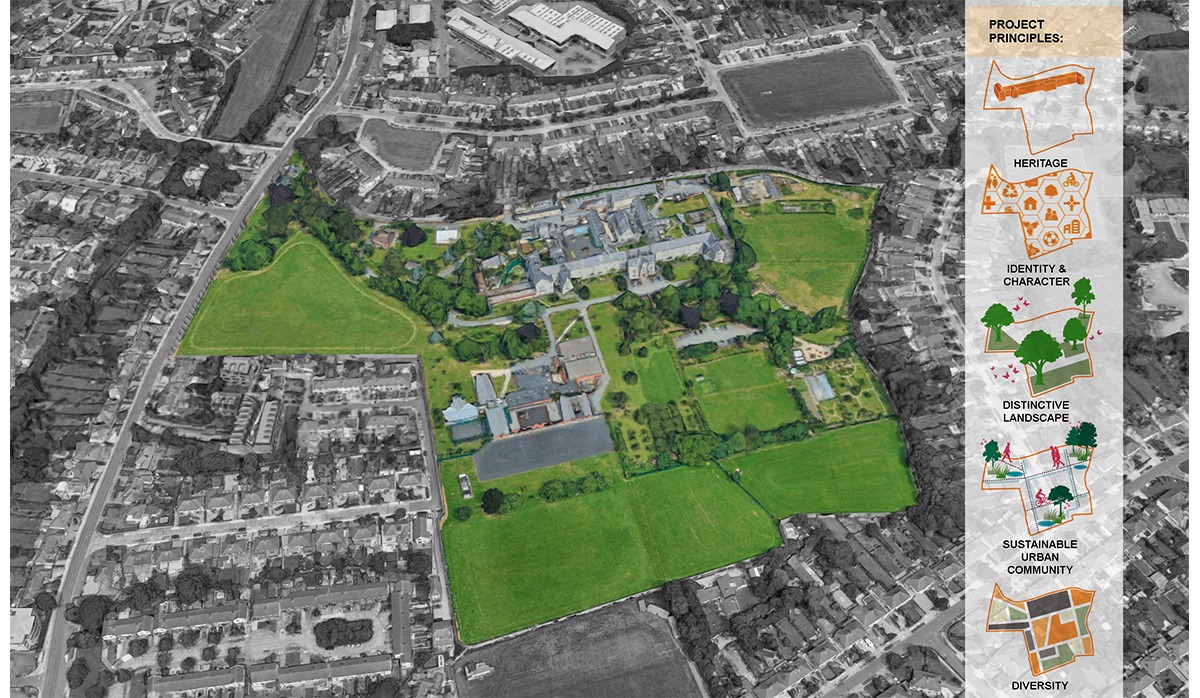 LDA appoints design team featuring Irish and international experts to progress development of in excess of 1,200 new homes
Plans to open up enclosed 11.5 hectare site and re-integrate it with Dundrum neighbourhood
Planning application expected mid 2021 with construction to start in 2022, subject to An Bord Pleanála approval
"The CMH campus is a truly unique site with the potential to deliver a landmark residential led sustainable development that will integrate into the existing community. It is without doubt one of Ireland's most significant new homes development projects" – LDA CEO John Coleman
23rd April 2020
The Land Development Agency (LDA), set up by the Government to unlock State land for new homes, has today published an update on its plans for the Central Mental Hospital (CMH) site in Dundrum, Dublin 14: 
The Agency has appointed a design team featuring a range of Irish and international experts to progress the development. It is estimated that in excess of 1,200 new homes will be provided on the site.

The planned development will consist of newly built homes in the grounds of CMH and the repurposing the existing CMH buildings.
The design team will be headed by Irish firm Reddy Architecture & Urbanism, supported by international design consultancy Tyréns (a European firm focused on sustainable design and regeneration) and a number of Irish consultancies.
The HSE is due to vacate the CMH facility later this year, with patients and staff transferring to a new purpose-built facility in Portrane, Co Dublin.
The LDA expects to lodge a planning application in mid 2021 and, subject to An Bord Pleanála approval, begin construction in early 2022.
The LDA intends to incorporate design features that will open up the 11.5 hectare site (almost triple the footprint of the Aviva Stadium) which is enclosed by a 5-metre high wall, to re-integrate it with the wider Dundrum neighbourhood.
The LDA will schedule an intensive programme of community engagement and public consultation to ensure that the development takes account of the needs and concerns of the local community.
LDA Chief Executive John Coleman said:
"This is a truly unique and exciting opportunity to open up a historic piece of land that has been closed off and inaccessible to the wider community since the 1800s.
We plan to transform the Dundrum and Windy Arbour area for the better with a landmark sustainable and inclusive new neighbourhood of in excess of 1,200 new homes, incorporating significant period buildings and mature landscaped grounds. Given the immediate proximity to quality transport nodes including LUAS stations and high-frequency bus routes, sustainability principles will form a major part of the brief to the top-tier design team that we have appointed.
It is incumbent on us to fully respect the historical legacy of the property and the surrounding communities with great sensitivity, while optimising the wonderful potential of this site to provide badly needed affordable homes – both for families and individuals and for old and young. This is a challenge we can meet and a project that will benefit the area for generations."
Mr Coleman also addressed the Agency's approach in light of the Covid-19 situation:
"The public health and economic challenges posed to our society by Covid-19 are immense. However the need for quality affordable homes will not recede in the near term and the LDA remains as determined as ever to accelerate the provision of more homes urgently.
Notwithstanding the current difficulties, the LDA and its design teams are fully engaged using remote working, and we are pressing ahead with all delivery programme stages, such as feasibility, design and planning on our projects, to get as many sites as possible 'shovel ready' in the quickest possible timeframe.
In addition to our existing portfolio of land, we continue to work with local authorities and other landowners to activate more sites with a focus on the provision of affordable homes. We are also pushing ahead with hiring new staff to support our work and have a number of roles open that are listed on our website.
The LDA is very much moving forward on its mandate which remains as important as ever."
Notes to editors
The Land Development Agency (LDA) was created in September 2018 with the purpose of opening up state-owned and other land for development. The Government has committed to capitalising it with €1.25 billion following enactment of its grounding legislation. The LDA has a national focus and is currently active on nine sites that will deliver around 4,000 homes, and has numerous other sites in its pipeline.
The LDA will release an ambitious strategic plan later in 2020 following consultation with stakeholders.
Appointment of design team
In recognition of the scale, challenge and opportunity that this development project presents, Reddy Architecture & Urbanism will be collaborating with leading European architects, Tyréns. Tyréns is a specialist master planning, urban design, landscape architecture and sustainable urban mobility consultancy with more than 2,800 employees. Reddys and Tyréns have also recently completed the master planning of the 61.5 hectare waterfront site for the Port of Cork Company in Cork city.