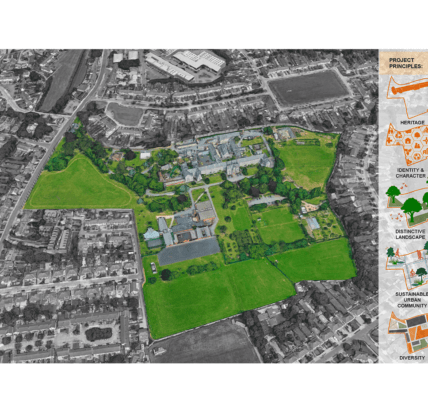 Estimated number of homes
1,200
Current status
Design team appointed
Next step
Preliminary design
Project Description
The Central Mental Hospital is currently an operational mental health facility housing forensic patients. It is intended to relocate the residents to a new purpose-built facility in St Ita's, Portrane, Co Dublin in Q3 2020. This will facilitate the redevelopment of the site and the creation of an entirely new neighbourhood, capable of setting its own character.
The site extends to approximately 11.3 ha and is unique in that it is an entirely enclosed site, surrounded by mostly 5 metre high walls which disconnect the site from the surrounding housing and open space. The site is located c.800m north of Dundrum Village. Windy Arbour Luas Stop (Green Line) is 450 metres approx. to the west.
There are a number of existing buildings on site including the Central Mental Hospital itself which dates from 1852.
The lands provide a unique opportunity to transform this inward-looking site into a new, welcoming, sustainable urban community with a distinctive identity which will be integrated into the wider community of Dundrum. While the optimum residential unit mix and number and ancillary uses will be determined as part of the detailed design process, cognisant of planning policy requirements, a development of approximately 1,300 no. new build residential units with appropriate supporting amenities, to include the adaptive reuse of the heritage buildings, is proposed while ensuring the essential setting of the lands and the integrity of the main buildings are retained in order to promote a high standard of development.
The LDA will engage in extensive consultation with the public and community groups in relation to this landmark scheme.
Gallery