Land Development Agency to deliver 221 homes to Naas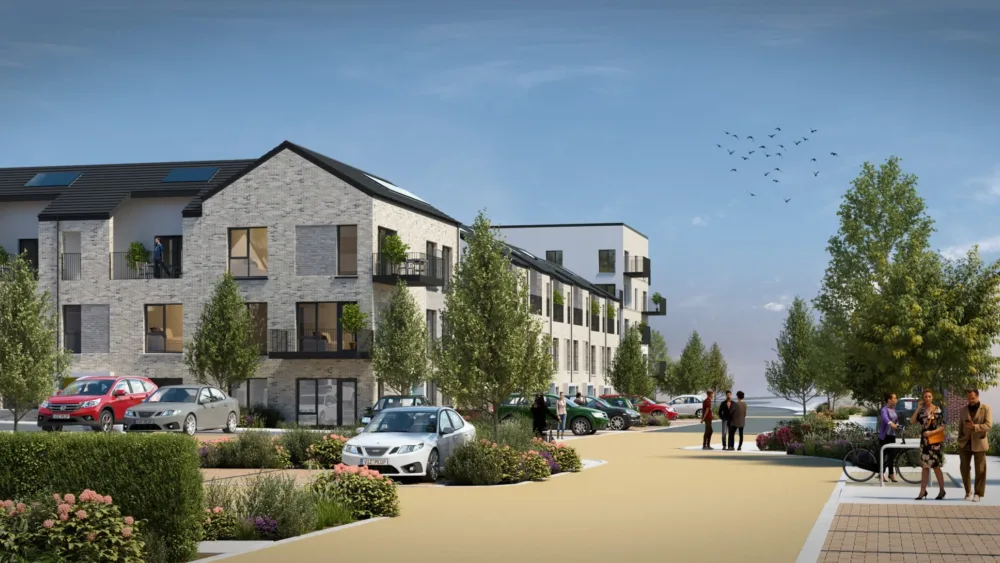 Site on former Devoy Barracks to become new neighbourhood
221 homes to be a mix of social and affordable homes
The Land Development Agency (LDA) has submitted a planning application to An Bord Pleanála for a Strategic Housing Development (SHD) on the lands of the former Devoy Barrack in Naas, Co Kildare. Decommissioned in 1998 the 4.14-hectare vacant site will provide 221 homes, subject to planning approval.
The LDA collaborated extensively with the Housing Agency, the current owners of the site, and Kildare County Council in order to bring forward the planning application.
The proposed development will comprise social and affordable homes, to be provided by way of the government's upcoming affordable homes scheme.
The planned homes will comprise 36 3-bedroom terraced houses, with 63 1-bedroom homes, 111 2-bedroom homes and 11 3-bedroom homes in apartment/duplex layout. The homes will be set across two to five storeys, and the development will be augmented with car parking, green open spaces and a 59-place creche. The proposed development provides for improved connectivity through the site and future connectivity is facilitated beyond the site to the surrounding neighbourhood and to the town centre. The main access to the proposed development will be from the existing entrance on John Devoy Road.
The Devoy project will be well-serviced by transport links and within easy access to the M9 and M7 motorways, the N7 and regular public transport services to Dublin city centre and surrounding towns. The new homes will also benefit from the range of services and amenities in the Naas and wider Kildare county area.
John Coleman, LDA Chief Executive, said:
"The Devoy site represents a prime opportunity for current and future residents of Naas and surrounding areas to realise their goal of living in an affordable home. The LDA is delighted to be able to apply for this planning permission and to continue our mission of providing more affordable housing options for individuals and families. I would like to assure the community of Naas that we are looking forward to working with them in bringing forward an exemplary new neighbourhood, should our application be successful.
I wish to express my gratitude to the Housing Agency and Kildare County Council for their collaboration in bringing forward this significant project."
The LDA is a commercial, State-sponsored body that has been created to coordinate land within State control for more optimal uses where appropriate, with a focus on the provision of homes for individuals and families.
The LDA's application for planning permission at the Devoy Barracks site is the latest in a strong pipeline of activity which will see thousands of social and affordable homes delivered across Ireland. In Shanganagh, South Dublin, construction will commence shortly on the State's largest affordable housing scheme while a decision to grant permission in respect of the planning application for a further 266 homes on the site of the former St. Kevin's Hospital in Cork city was recently received, among many other new affordable homes projects that are being advanced by the LDA.
Further details and supplementary information on the LDA's plans for Devoy Barracks can be found at: https://devoynaasshd.ie/
For further information:
Murray
Joe Heron | 087 6909735 | [email protected]
Andrew Smith | 083 076 5717 | [email protected]